How to practice the 5 Ways to Wellbeing this Stoptober
How to practice the 5 Ways to Wellbeing this Stoptober
Smoking has long been seen and used as a stress reliever, but the reality is that it is an artificial sensation of relaxation, which can actually increase anxiety and tension. But making a lifestyle change can be challenging so there are five steps that smokers can also take if they find the thought of going cold turkey too daunting.
5 ways to wellbeing this Stoptober
Connect
If you are stopping smoking or wanting to eat better and become more physically active, use groups and coaching services to help keep you on track. There are lots of apps and online social media groups you can join.
Be active
Being physically active whilst you are quitting can enhance the physical benefits that quitting gives you and gives you another focus. You can set yourself goals like number of steps per day, or time spent doing something physical like gardening AND you can lower your BMI and cholesterol at the same time.
Take notice
Use the time you would normally spend smoking, on enjoying the environment around you. Take short walks to up your physical activity, sit in the garden, take notice of what's going on to help develop an awareness and appreciation of the smaller things.
Learn
To keep your hands busy when you're staying away from the cigarettes, try reading a book, doing a crossword or sudoku, or find a new recipe to try. You could also look for local clubs offering walks, activities or crafts.
Give
You help to support someone else who is trying to improve their lifestyle. Teaming up and offering some of your time to help others can make your lifestyle change easier and help to keep you on track.
The last year has been difficult for many of us. Stress and concern about our health is on the rise. For smokers this has pulled them in two directions. On the one hand, the chances of smokers successfully quitting are as high as they've ever been. On the other, smokers experiencing stress and mental distress are more likely to be smoking more. Quitting can be less stressful than you fear and can ultimately improve your sense of wellbeing. We have all had less control over our lives than we'd have liked over the last 18 months, but smokers can take some positive control this Stoptober.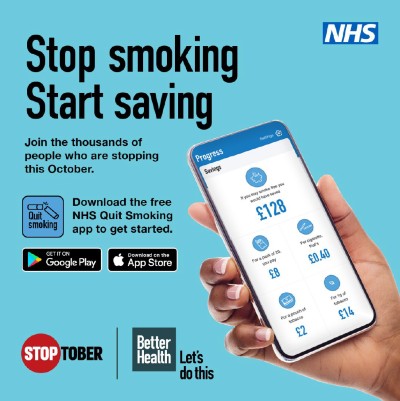 According to the last Public Health England (PHE) survey in 2018 there were around 46,000 smokers in Coventry, which around 5,000 fewer than 5 years ago. Figures also show that 6 in 10 smokers say they intend to quit. Smoking prevalence is higher than the national average in North Warwickshire, Nuneaton & Bedworth and Rugby for both adults who smoke and pregnant women who smoke at the time of delivery.
Expert face-to-face free advice and support from local stop smoking services, Coventry Healthy Lifestyles, is also available. They have helped hundreds of people quit through their FREE stop smoking service. For more information about help to stop smoking and other healthy lifestyles support, call their on freephone 0800 122 3780 or visit www.hlscoventry.org.
Warwickshire's stop smoking support service, Quit4Good, is a free 12-week programme providing regular support from expert Stop Smoking Advisors and stop smoking medication (prescription payable) available at a number of Pharmacies and GPs across the county.
Pregnant women and their families can receive free confidential support, advice and treatment from the Stop Smoking in Pregnancy Service (SSiP). The specialist advisors understand addiction and the challenges of going smoke free and can help you choose the right treatment options for you. Visit www.Quit4Baby.co.uk or call 07917 227 004.
If you prefer a more independent approach, you can find all the relevant information on the ONE YOU website. There is also the Personal Quit Plan which may be an option for you. It can help you identify your reasons for quitting, be aware of your smoking triggers and tips to fight the cravings.
The Smokefree app is available to download to track your progress, see how much you're saving and get support wherever you are and you can also see the improvements to your body once you stop smoking.