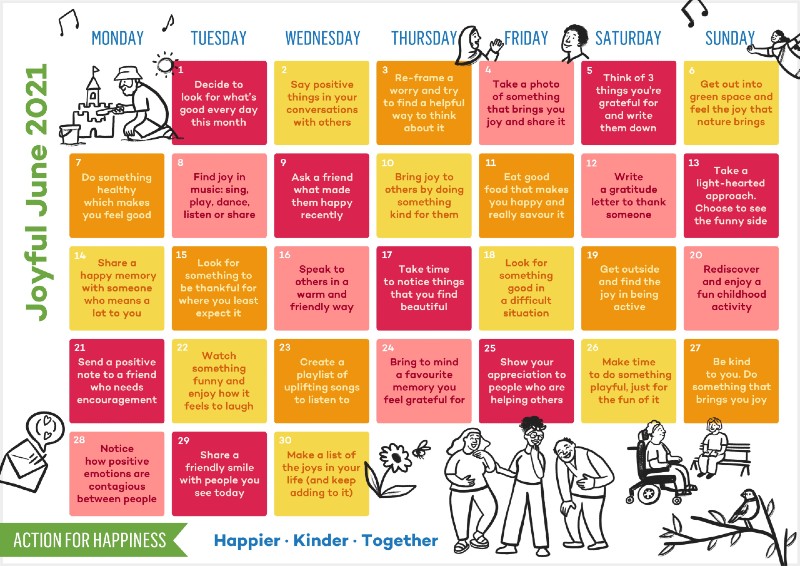 This month's Action for Happiness calendar theme is all about looking for what's good and finding the joy in life, even when things are difficult. Life has its ups and downs but focusing on positive emotions such as gratitude, inspiration, and pride on a regular basis can help us to become more resilient to adversity, something many of us have faced during the pandemic.
The monthly calendars are full of actions you can take to help create more positive emotions.
If you are struggling, there is support for anyone affected by mental health:
Dear Life has been created by local health and social care professionals across Coventry and Warwickshire. This provides a range of support and signposting to vital services for people who don't know where to turn for help to address complicated and negative thoughts and feelings.
For people who can't access resources online, there is help available to you. Call the free NHS crisis line on 0800 616 171, available 24/7 offering confidential emotional support to residents.
Anyone struggling to cope can call Samaritans for free at any time, from any phone on 116 123.
If you have seriously harmed yourself, call 999 or ask someone to call 999 for you.
Coventry City Council and Warwickshire County Council have been here supporting residents and workplaces throughout the COVID-19 Pandemic. Here are some of the things we can all be proud of.